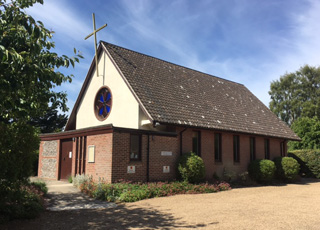 Please note that the correct address, and Satnav destination, is:
White Hart Street, Aylsham, NR11 6HG.
The church at Aylsham is the only church dedicated to St John of the Cross in England.  It was consecrated in August 1961 by Bishop Leo Parker.
The original chapel in Aylsham was a small converted barn in the grounds of Abbots Hall (1885), then the property of Philip Shepheard and dedicated to St Teresa of Avila.  The Shepheard family was the main driving force in the endeavour to find a priest who could come to the town to say Mass on Sunday, once a month, once every 6 weeks—or even once a quarter. Mass was said on an occasional basis by Jesuits from Great Yarmouth. The Shepheard sisters offered £50 per annum to give a living to a priest. The bishop replied that a priest would need at least £120 a year to live in Aylsham!
The sisters decided that a different chapel was needed. This chapel (now the sacristy and Chapel of St Teresa of Avila) was blessed and opened in the spring of 1899.The chapel was built in memory of Samuel Shepheard, former vicar, convert to Catholicism and elder brother of the sisters. His memorial is over the entrance (inside).

The church was built in 1961, as an extension to the chapel, and dedicated to St John of the Cross, St Teresa's dear friend and fellow Carmelite.   It was constructed around steel portal frames, clad with one inch (25mm) cedar, smut pantiled roof and "local red facing" brick, and paid for by a legacy from Mr Frank Loads, a North Walsham businessman. The Shepheard sisters owned a picture of St John of the Cross, which had belonged to their grandfather, and now hangs in the church.
The altar in the church was consecrated  by His Excellency the Most Reverend Luigi Barbarito,  Apostolic Pro-Nuncio to Great Britain. The Mass was followed by the Christmas Party in Aylsham Town Hall which was attended by His Excellency.
The benefactors of the new altar (1992) were Harry and Mary Carr; Miss Anna Viccars Barber gave the statue of St John, and the statue of St Teresa, Lady Angela Ellis.
Much of the work was done by skilled parishioners: carpentry, Mr Ian Roberts; altar foundations and chapel floor, Mr Shaun Wills; altar building, Mr Adrian Craven; and the statues were carved by Mr Anton Wagner. The porch, kitchen and organ loft were a further extension.
Aylsham chapel was served by priests from Norwich until 1930, when it was served from North Walsham.  In 1939, it was transferred to Cromer, with its financial benefits, as the lack of holiday trade made the Cromer Parish short of funds.  By 1960, the chapel was back with North Walsham.