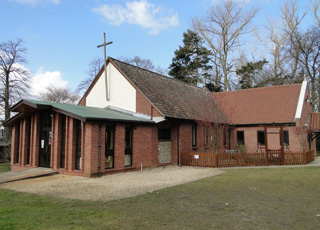 Please note that the Google map (below) portrays the correct geographical location, but the incorrect postal address.
The correct address is:
Catholic Church of St Helen,
Horning Road West, Hoveton, Norwich, NR12 8QJ.
History of St Helen's Catholic Church, Hoveton
c. 1884: The Trafford family erect an iron Boulton and Paul chapel dedicated to St Michael and St Helena at Wroxham Hall.
1934: North Walsham businessman Frank Loads establishes a fund to build Catholic churches at North Walsham and Hoveton.
1954: Wroxham Hall demolished. Chapel fittings go into store and local Catholics  worship at the new Hoveton Village Hall.
1957/58: Three acres of land on Horning Road purchased. A 'mobile chapel' comes to serve the congregation: one of its priests is the newly ordained Fr. Cormac Murphy O'Connor – later Cardinal Archbishop of Westminster.
1959: Bishop Leo Parker of Northampton blesses the new Church of St Helen on May 3rd, the Feast of the Holy Cross. Costing £6000 to build it incorporates the Wroxham Hall chapel fittings. First under the care of St John's Parish (Norwich) then Sacred Heart Parish (North Walsham), and in 1970 St George's Parish (Norwich), St Helen's becomes part of the new Diocese of East Anglia in 1976.
1979: A pipe organ installed, said to be 'the finest built in Europe' that year.
1986: A growing congregation and a lively ecumenical social club necessitates building a narthex for use as church extension and small meeting room.
1987: The 'October Hurricane' (windspeed of 102 mph recorded at nearby RAF Coltishall) fells scores of trees in the grounds but the church is undamaged: widely regarded as miraculous. The unique 'Rosary Garden' is laid out to mark the Marian Year, and a Memorial Garden for ashes created beneath a new Calvary.
2001: A new Woodland Shrine erected north of the Church.
2002: St Helen's Guild (social club) celebrates its 20th Anniversary by restoring the Rosary Garden. An azulejo tile picture of Our Lady of Fatima from the Azores is blessed on October 13th, 85 years to the day since the final Apparition at Fatima.
2004: Parish reorganisation returns St Helen's to Sacred Heart Parish, North Walsham. New statue of Our Lady of Fatima installed in the Woodland Shrine.
2008: Growing numbers necessitate demolition of the old sacristy and provision of a new transept, sacristy, confessional, meeting room, kitchens and toilet. Image of St Michael returns, and redecorations completed in time for the Golden Jubilee in 2009.
 Nick Walmsley (1999, 2013)
Click for  A short photographic history. 1909-1959