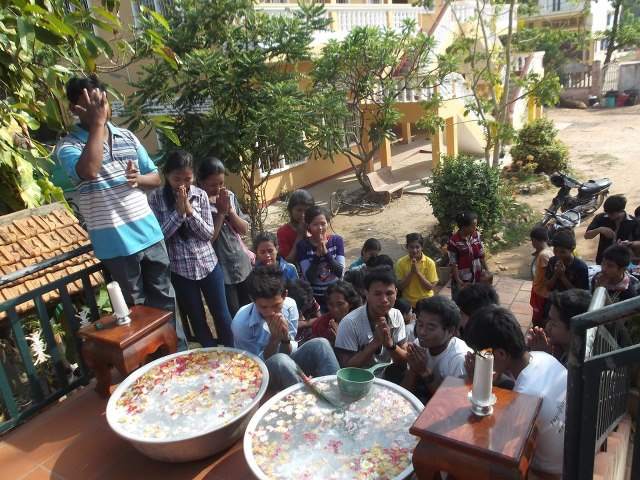 Thanks to Jesuit Brother Amalan Thainase, we have news from Sisophon.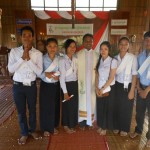 Congratulations to six young people  baptized on Easter Sunday. We send them our love and prayers.
Blessing of  houses is traditional at  Khmer New Year.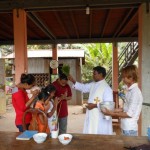 Father Rajat blessed local houses, including those of parish workers Kim Yee and Ham Sok.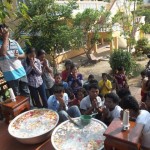 The second picture shows the 'blessing of the old'also a traditional part of Khmer New Year. Young people bless their older relatives and thank them for their love and good example.
Also at Khmer New Year, the students at the church prepared 1000 food parcels  and distributed them at the regional hospital and Svay Prison.  Brother Amalan writes:
  "We had lovely, emotive and touching experiences in both the places. In the prison we went cell by cell to meet and greet and had a chat with them.  And in the hospital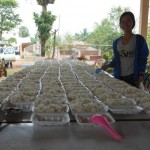 too we met and greeted the sick and consoled them promising our fervent prayers for them  to get well soon. All this was possible due to the timely economic help by Sister Lucia & Brother Michael"
May 7th is the anniversary of the martyrdom of Bishop Tep Im Sotha,
murdered by the Khmer Rouge in 1975 at a site 5 miles outside Svay Sisophon. Known as 'The Land of the Martyrs', the site now has a shrine to the memory of Tep Im and each year the community gathers for the celebration of Mass and to offer incense for the repose of his soul. The students have been busy preparing:  you can see a video of their efforts at www.aylshamworldwide.org. The temperature was apparently over 40c when the video was taken  a week ago!!!
People often say " Cambodia is such a beautiful country and the people look so happy". Yes, that is indeed true but the smiles hide a harsh reality of life.  For example, two weeks ago, in one of the rural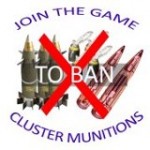 villages near Svay, a landmine explosion resulted in a young boy losing his leg. This kind of accident is all too common in Cambodia, the third most-landmined country in the world.
.