LENTEN REFLECTION 2020: ​REPENTING OF ECOLOGICAL SIN AND CULTIVATING ECOLOGICAL VIRTUES
Laudato Si' reminds us that "the ecological crisis is . . . a summons to profound interior conversion . . . which entails the recognition of our errors, sins, faults and failures, and leads to heartfelt repentance and desire to change." (217- 218) At the recent Synod on the Amazon, ecological sin was defined "as an action or omission against God, against one's neighbour, the community and the environment." The seven deadly sins (pride, greed, lust, wrath, gluttony, envy, sloth) can be a way to examine where we have turned away from our Creator and creation. Below, each sin is examined through the lens of creation and is paired with an ecological virtue that can help us to restore our relationships and to live in sublime communion. (89) We invite you to reflect on one of these sins and virtues each week of Lent within your families, Laudato Si' Circles, or communities.
PRIDE

Pride can lead to "u​ surping the place of God to the point of claiming an unlimited right to trample God's creation underfoot." (LS 75) ​Lent is a time to reflect on the ways that we have placed ourselves, instead of God, at the center, and thus harmed God's creation.

HUMILITY

The virtue of humility reminds us that "we are dust, and to dust we shall return." We are creatures, not Creator, and we are called to live in deep communion with all of life.

FAST

Commit to giving up one thing this Lent to remind you of your complete dependence on God. Make your fast a way to protect creation, such as fasting from unnecessary shopping or car use, or eat more plant-based food.

LUST

Lust is the inability to appreciate someone or something beyond its appearances, and to wish to obtain it because of its appearance. This sin cuts us off from forming deeper relationships with creation, and, through it, with God.

SELF-CONTROL

Self-control invites us to let creation be what it is, rather than trying to shape it for our own wants. This virtue can help us form a deeper relationship with creation to learn from its wisdom and appreciate our intimate connection.

PRAY OUTSIDE

Spend time praying outside to appreciate creation as a gift from God, sacred in its own right. Say a rosary or listen to how God is speaking to you through creation.

ENVY

In our societies, the pursuit of happiness is often tied to having the latest gadget or chasing the next big purchase. This sin convinces us that our happiness is defined by possessing property, and that we can buy our happiness at the expense of the Earth's finite resources.

GRATITUDE

Gratitude is "a recognition that the world is God's loving gift, and that we are called quietly to imitate his generosity in self-sacrifice and good works." (LS 220) How might we be grateful for what we have before us? How can we pass on the abundant blessings that we have been given?

REDEFINE HAPPINESS

Reorient what makes you happy! This week, commit to not buying a single thing except the absolute necessities. Give generously to the Earth and your community by spending time with creation.
GLUTTONY

Gluttony, often defined as over-eating and drinking, can be seen in our epidemic of waste. Around one-third of the world's food is lost or thrown away each year. Pope Francis reminds us that "whenever food is thrown out it is as if it were stolen from the table of the poor." (LS 50)

TEMPERANCE

Laudato Si' invites us to "replace . . . wastefulness with a spirit of sharing." (LS 9) We all must consume resources to survive. We can do so with an understanding that we are not the only ones who require those resources, and that taking more than our fair share will inevitably leave us with nothing.

EAT AND DRINK SIMPLY

Look at ways that you can eat more simply, such as striving to eat a local, plant-based diet. What are ways that you can also reduce waste in your household or community? Can you go without canned or bottled beverages this week?

WRATH

It can be easy to judge or even dismiss others who do not share your same concern for Earth. Notice what thoughts or feelings arise when your efforts are dismissed or your perspective seems to be misunderstood.

PATIENCE

However challenging, Laudato Si' calls us all to embark "on a path of dialogue which demands patience, self-discipline and generosity, always keeping in mind that 'realities are greater than ideas.'" (LS 201)

ENGAGE IN DIALOGUE

Engage in one difficult conversation around your concern for the Earth. This might be talking to your community about an energy audit or divesting from fossil fuels. Before the conversation, pray for the grace of patience and listening.

GREED

Greed traps us into following a "'use and throw away' logic…because of the disordered desire to consume more than what is really necessary" (LS 123). Greed breaks us away from being responsible for our own consumption, and from understanding the Earth's limitations.

CHARITY

Laudato Si' reminds us that social love is a form of charity. "Love for society and commitment to the common good are outstanding expressions of a charity which affects not only relationships between individuals but also "macro-relationships, social, economic and political ones'" (LS 231).

SOCIAL LOVE

How might you engage in a charitable act for the common good? Identify a local group engaging in policy changes around the climate crisis and find one way to support them.

SLOTH

There is a risk of getting swept into the busyness of our lives that leaves us too tired or unmotivated to engage in solidarity. Pope Francis warns of this "globalization of indifference" and encourages us to live our lives responding to "both the cry of the earth and the cry of the poor" (LS 49).

DILIGENCE

This virtue encourages us to be faithful in our daily efforts to care for our sisters and brothers and common home. We must confront the lethargy that can tempt us with inaction remembering that "living our vocation to be protectors of God's handiwork is essential to a life of virtue" (LS 217).

COMMIT FOR THE LONG RUN

As you enter into this holiest of weeks, ask for the grace to continue this journey of ecological conversion beyond Lent and the Easter Season. Identify one virtuous action to continue to live out your commitment to care for our common home.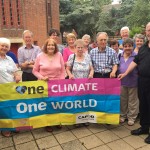 ---
THE CAFOD LIVE SIMPLY AWARD
Before the summer holidays parishioners from all three of our churches met to reflect on Pope Francis' encyclical 'Laudato Si'. Central to his message is how we see our role in the world that conforms with the vision of St Francis. The PPC have decided that we as a Parish should work towards gaining a LiveSimply Award for the Parish so I shall explain more at the Masses this weekend and suggest how we, as a parish, can live simply, sustainably and in solidarity with the poor.
Fr James.
A steering committee for working towards our LiveSimply Award has been meeting and we will be keeping you all up to date with information in the bulletin, on notice boards in each Church and on the parish website. Your representatives from each community are Hilary Bolger, Becky Walker, Aideen Shiell and Linda Dawson from Sacred Heart, Janet McIlwee, Mary Rando and Mary Edmonds from St. Helens and Katie Maidment and Rob and Clare Hardie from St John of the Cross.
Our Parish Action Plan (below) has been submitted to CAFOD and in due course Live Simply assessors will visit our Parish to see if we have achieved the Live Simply Award.
Actions to live simply
Main action: To use the weekly Parish Newsletter to suggest to parishioners ways in which we can all be involved in living more simply. We will have a box into which parishioner can place any ideas that they would like the parish to try. A new suggestion will be published every month. We will have a list to sign for those willing to take the suggestions on board
Other activities:
Encourage Parishioners to use the monthly Fair trade stalls and seek out Fair trade produce in the supermarkets and to encourage people to buy 'World Gifts' at Christmas rather than unnecessary luxury items
For the Parish to pray the 'Live Simply Prayer' each week during the Bidding Prayers at Holy Mass and to spend time in prayer and meditation in the Memorial Gardens in Sacred Heart and St Helens, and to explore the possibility of using some of the grounds for parishioners to grow vegetables.
Actions to live sustainably with creation
Main action: Recycling – Ensuring that Parishioners are aware of how to correctly use the local recycling facilities with the hope that communications with the local organisations will lead to even better local recycling methods.
Other activities:
Encourage parishioners to become 'MP Correspondents' who help raise awareness and understanding of the causes of poverty and injustice and to encourage them to support policies and activities that help poor people around the world.
Reducing wastage in the Parish by encouraging the use of LED bulbs and switching off lights and turning down thermostats in our churches and homes. In the future trying to reduce the number of paper copies of the weekly newsletter by encouraging people to sign up for a weekly electronic version.
Actions to live in solidarity with the poor
Main action: Supporting Refugees in Norfolk and elsewhere. In Norwich working closely with 'English Plus' by collecting bikes, tools and vacuum cleaners to assist with resettlement. Financially and politically supporting refugees in the Greek Islands and in Calais
Other activities:
Supporting the Cromer and Norwich Food Banks and North Norfolk SVP particularly during this Advent by parishioners having an alternative 'Advent Calendar' which involves donating a necessary food item each day throughout Advent. The boxes/bags of food can then be brought to each church and will be taken to the Food Bank for distribution.
'Coins for Cambodia' each household will be invited to take home a glass 'thankfulness' jar. It will act as a visible reminder to be grateful for our own amenities e.g. clean water. The money raised will go towards water projects in North West Cambodia being organised by 'Support Cambodia'. The Parish has a well-established twinning link with the Parish of St. Francis Xavier in Svay Sisophon in Battambang Province, Cambodia.
The Project for November 2016 – 'Reverse Advent Calendar'
'Living in Solidarity with the Poor'
Our first challenge will be a 'Reverse (slightly early) Advent Calendar' for the Cromer and Norwich District Food Banks. If you would like to take part you will need to donate one item every day for 25 days in November from the list on the flyers in each church. These are items that the Food Banks really need at this time of the year. You can either fill your own box or bag at home or bring the items into Church and put them in the Food Bank collecting boxes provided. The filled boxes need to be returned to your Church, at the latest, by the weekend of the 4th December so that the Food Banks have time to distribute the food in time for Christmas.
'Save Every Drop' – 'Living Sustainably with Creation"
This month we hope to focus on Saving Water. In Laudato Sii, Pope Francis refers to our planet as our sister Mother Earth, and St Francis of Assisi referred to our precious commodity 'water' as Sister Water
How about using a cup or glass for your water when cleaning your teeth rather than running the tap?
2. Try to have a shower rather than a bath and then limit your shower to 3 minutes.
3. Collect rain water for your garden watering by fitting water butts to as many downpipes as possible.
4. Try using a bucket of water to clean the car rather than the hose.
Each Church has a suggestion box for you to give us your own suggestions.
Live Simply 'Reverse Advent Calendar' Project Update
The Parish has responded very generously indeed to our first Live Simply project, the 'Reverse Advent Calendar', and a total of 72 filled boxes have been delivered to the Cromer and District Food Bank and the Norwich Food Bank. Many of the boxes had more than the 25 items suggested, so in all about 2000 items were donated. The Food Bank volunteers were delighted and very grateful for our support.
The Project for December 2016 is CAFOD World Gifts
World Gifts – The true spirit of Christmas giving. World Gifts are a fun and meaningful way to give virtual Christmas present to our friends and family. With each gift, you'll receive a certificate to pass onto a loved one, which explains how your donation and their gift will make a difference to some of the poorest communities around the world. During Advent let us take the time to think about gifts beyond Christmas presents – the gifts of our own life, the gift of creation and gifts of hope and mercy. Through World Gifts we can give our loved ones a great present this Christmas and we can also choose to give gifts of hope to others.
Live Simply Suggestions for December 2016
Is that light really necessary?
2. Old clothes? Charity Shop or Clothes Bank
3. Buy only what you need
4. Love God, People and Creation
5. I will live simply this year
6. Recycle Christmas Cards and Wrapping Paper
Live Simply Suggestions for January & February 2017
Keep junk mail and burn it in a wood burner or on an open fire
2. Use the local Charity shops to recycle your unwanted goods or presents of keep them and donate them to our Summer Fete
3. Take old small electrical items to the recycling centres
4. Review the contents of your fridge and store cupboards before going grocery shopping
5. Plan your menus for the week ahead before going food shopping. Try this useful website 'Eat not Spend' eatnotspend.wordpress.com
6. Buy only the food you need and invite friends to share
7. Cook a double quantity and make your own 'ready meal' for your freezer
8. Make cooking fun and encourage your children or grandchildren to cook simple meals with you
Live Simply Suggestions for March & April 2017
1. Support CAFOD Lent Fast Day
2. Make contact with a lonely person
3. Give away a smile or a kind work
4. Greet a street seller and offer a word of encouragement
5. Brighten up someone's day with a visit
6. Support the CAFOD East African Crisis Appeal
7. Visit a friend in 'Residential Care'
8. Take someone on an 'outing'
9. 'The best way to find yourself is to lose yourself in the service of others'
Live Simply Monitoring Questionnaire
Oct 2016 – March 2017
Please tick if you managed any of the following and give us some feedback or comments.
Did you take part in the Reverse Advent Calendar for the Food Bank?
51 32%
Did you try any of the Saving Water suggestions;
Not running the tap when cleaning your teeth?
130 83%
Having only a 3 minute shower?
86 55%
Fitting water butts to your downpipes?
92 58%
Using a bucket for car washing?
61 39%
Did you buy any CAFOD World Gifts this Christmas?
14 8%
Are you trying to Love God, People and Creation?
102 65%
Have you made a resolution to live simply this year?
107 68%
Recycling
Did you take your old clothes to a Charity Shop or to a Clothes Bank?
136 87%
Did you try burning junk mail in a wood-burner or on the open fire?
40 25%
Did you recycle your Christmas Cards and Wrapping Paper?
130 83%
Did you recycle your unwanted presents to the Charity Shop?
74 47%
Did you take your old small electrical items to the recycling centres?
97 62%
Living Simply and Living Sensibly
Did you try and switch off unnecessary lights?
142 91%
Did you try to buy only what you needed?
124 79%
Did you try and menu plan before going shopping for food?
106 67%
Did you cook an extra portion and freeze it for another day?
98 62%
156 Forms completed and returned (180 distributed)
COMMENTS FROM THE MONITORING QUESTIONNAIRES
I will think more carefully about what more I could do.
You have inspired me to eat unwanted leftovers
We have done all these things for ages
Educate the young who are institutionalized where lights and heating are left on permanently at boarding schools and universities. They have not been educated to turn off lights or heating. My children were forbidden to turn off lights at school and university hence they never think to do it at home
Wonderful project which encourages one to really consider the implications of using too much of the world's resources when there are those who have no sustainable resources
Get back GP 24 hours responsibility
No longer put loo roll down the pan – have a dedicated small waste bin in the bathroom, then burn the bag of paper on the fire in Cambodian style
'Live Simply' has really made me more aware and thinking about things more deeply
I do try to live simply but was doing so before I read the propaganda
Excellent initiative – most of which we already do
Suggestions in newsletter may prompt those who do not usually think about it
Keep up the good work! We try!
Always room for improvement!
The saving water suggestions completely miss the point of trying to save the planet. We live in England not the middle of a desert! Saving water with these suggestions might save a few pence but not the planet in any way. We should instead do things that take us out of our comfortable world
Making suggestions on a weekly basis does tend to keep you focused and reminds you to live simply
It is just common sense and it saves you money
I changed light bulbs to use less electricity
I cooked extra portions for freezing for Mum
Carry on the good work
Do not burn junk mail as it is salvageable
Many of these we do already
Great ideas and reminders. Thank you
Not yet taken old small electrical items to recycling
I don't wash my car
Not possible to fit water butts to down pipes
Burning junk mail is an environmental disaster because it causes pollution
I am trying to be more organised
This should really always have been part of our Christian life
Many of the suggestions are things we carry out on a regular basis to make our pensions meet household bills and food needs
I do not need to be told this. It is a normal way of life
I do not need reminding to live this way. I find it patronizing
I really think it is a shame we, intelligent adults, have to be treated in such an insulting and infantile way. Many of us observe these practices
a) because we have to for economic reasons
b) because we naturally don't want to be wasteful
Not everyone has access to an open fire or log burner so may be an option for recycling instead
LiveSimply Suggestions for May & June 2017
1. Make sure there is fresh water and food for your garden birds every day
2. Support the Plant Sale for Cambodia next Saturday at Sacred Heart, North Walsham
3. Split open used tea bags and mix the tea leaves with your compost. NB the bags don't decompose
4. Grow some extra produce to share or sell for charity at Church during the year
5. Plant bee and butterfly friendly plants in your garden, patio pots or window boxes
6. Turn off stand-by electrical appliances overnight e.g. TVs, Phone Chargers, Computers
7. Boil only the water you need in your kettle (20% energy saving)
8. Please sign a 'Power to Be' card
LiveSimply Suggestion for July/August/September 2017
Consider changing to a renewable energy supplier e.g Ecotricity
Always use a full load in your washing machine or dishwasher. If you have one, choose the 'eco' setting
Hang clothes outside to dry, instead of using a tumble dryer
Pray for our Diocesan Jubillarian Priests
'Power to Be' – Thank you to all those who signed the 'Power to Be' petition cards. We returned 87 signed cards back to CAFOD, and many other people returned the cards themselves and others have signed the petition on line. There is still time to sign up on line if you so wish: cafod.org.uk/powertobe
Pray for the Homeless
Pray for Refugees
Pray for Persecuted Christians Worldwide
Pray for the Hungry
Care for Creation
Pope Francis has established 1st September as the World Day of Prayer for the Care of Creation so we will be having an outdoor Celebration Liturgy on Caring for Creation in the Memorial Garden at Sacred Heart, North Walsham on Saturday 2nd September at 10.30 a.m. This will be followed by Mass at 12 noon. All are very welcome to attend
Try to attend the Care of Creation Liturgy next Saturday morning
Take time to appreciate the Beauty of Nature
Pray for a World at Peace
Support the Cambodian Mass for the Holy Souls next Friday evening
Pray that we may be good stewards of our Earthly home
LiveSimply Suggestions for October and November 2017
CAFOD Harvest Fast Day
Friday 6th October is Harvest Fast Day. CAFOD are focusing on helping farmers in El Salvador to sustain their families with good crops and harvests. With your help CAFOD is giving them fruit trees and strong seeds to grow. Please take home a Fast Day envelope this weekend and fast this Friday and give what you can to the collection next weekend.
Live Simply Award First Anniversary
To mark the first anniversary of working towards our LiveSimply Award we would like to plant a tree in each of the three church gardens.
Support the Coffee Morning for the Homeless on Sunday at Sacred Heart
Pray for Missionaries in the developing world
Pray for Fr. Greg and the parishioners of our twinned parish of St. Francis Xavier, Svay Sisophon
Reverse Advent Calendar – The LiveSimply Group would like to suggest that we once again take part in the 'Reverse Advent Calendar' for the Norwich and Cromer District Food Banks. There are flyers at the back of each church with suggestions of the items the Food Banks really need in the boxes over the next 25 days. You can either fill your own box or bag at home or bring the items into Church and put them in the Food Bank collecting boxes provided. The filled boxes need to be returned to your Church, at the latest by the weekend of the 3rd December so that the Food Banks have time to distribute the food in time for Christmas.
Take home a CAFOD World Gift Catalogue and buy some Christmas gifts for your friends and family in solidarity with the poor
Support Aid to the Church in Need's Red Wednesday on 22nd November in solidarity with persecuted Christians. For more information – www.acnuk.org/redwednesday
Live Simply Suggestions for December 2017 and January 2018
Give 10 minutes of your day to spiritual reflection
Try to be inclusive in your Christmas celebrations
Check your store cupboards and only buy what you need.
Christmas love is for life and not just for Christmas
Recycle only recyclable wrapping paper i.e. not glitter paper
Pray for our Parishioners visiting our twinned Parish of St. Francis Xaviou, Svay Sisophon
This month we are concentrating on supporting Refugees
Pray for refugees in all parts of the world
Pray for refugees in Calais and the charities that support them
COLLECTION FOR REFUGEES IN NORTHERN FRANCE
As part of our Live Simply commitment to supporting refugees, with your help, we would like to try and support the thousands of refugees still stuck in terrible conditions in Northern France.
Cambridge Convoy Refugee Action Group – (CamCRAG) is a group of volunteers working to help the refugees in Northern France and elsewhere. They send regular convoys to the camps and aim to raise awareness of the situation, fundraise and organise donations of clothing and other items. All donations go towards providing aid in the refugee camps or supporting the convoys. They have a convoy departing for Calais on the 23rd February so we would like to collect any of the following items over the next few weeks. The items donated will then be taken over to Cambridge for onward transportation:
Blankets and sleeping bags, socks, gloves, hats and scarves, small and medium waterproof jackets, men's short and long sleeved T shirts, jogging bottoms and jeans, small and medium men's jumpers and hoodies
If you would prefer to make a donation to CamCRAG go to: camcrag.org.uk
The following charity is also in great need of help:
The Refugee Community Kitchen, – "Feeding people without Judgement" This charity has served 1.5 million meals over the past 2 years, currently averaging 700 meals a day in Calais, Dunkirk and beyond – all involving delicious and healthy food.
On line donations to – refugeecommunitykitchen.com
Please bring your donated items to your church between the 14th – 28th January 2018
Thank you to everyone for the very generous response to the Calais Refugee Collection. 30 bulging bags of men's clothing have been sorted and taken over to CamCRAG in Cambridge on your behalf to be transported to Calais over the weekend of the 23rd February. CamCRAG were unable to accept the women's and children's clothing as they have sufficient in their warehouse, that clothing has been given to the FoodBank in Cromer for distribution to their clients.
CAFOD Family Fast Day – Friday 23rd February
With malnutrition still killing almost three million children a year, your fasting, prayers and donations on Family Fast Day will ensure more of God's children have enough good food to eat. Every pound you are able to donate this Lent will be doubled by the UK Government therefore twice the number of children can have the opportunity to grow up healthy and strong
Theme for Lent – Fast, Pray and Give
Support CAFOD's Lent Fast Day next Friday
Fasting for others: Keep at it!
Take home the CAFOD Lent Prayer Card and use it every day.
Final Livesimply Life Style Questionnaire – Our assessment date to gain the LiveSimply Award is scheduled for the 14thMay so please would you complete one final questionnaire today to help us show the Award assessors the changes we have made and will continue to make in order to live more simply, more sustainably and more in solidarity with the poor. The results from the questionnaire you completed last month are below
Live Simply Monitoring Questionnaire March 2018
Please tick if you managed any of the following and give us some feedback or comments.
(2018) (2017)
Did you take part in the Reverse Advent Calendar for the Food Bank? 68 60% ( 32%)
Did you buy any CAFOD World Gifts this Christmas? 21 18% ( 8%)
Are you trying to Love God, People and Creation? 98 87% (65%)
Have you made a resolution to live simply this year? 91 81% (68%)
Water Saving suggestions;
Not running the tap when cleaning your teeth? 95 84% (83%)
Having only a 3 minute shower? N/A 8 60 53% (55%)
Fitting water butts to your downpipes? N/A 7 49 43% (58%)
Using a bucket for car washing? N/A 11 43 38% (39%)
Recycling
Did you take your old clothes to a Charity Shop or to a Clothes Bank? 101 90% (87%)
Did you try burning junk mail in a wood-burner or on the open fire? N/A 6 40 35% (25%)
Did you recycle your Christmas Cards and Wrapping Paper? 93 83% (83%)
Did you recycle your unwanted presents to the Charity Shop? 78 69% (47%)
Did you take your old small electrical items to the recycling centres? 73 65% (62%)
Living Simply and Living Sustainably
Did you try and switch off unnecessary lights? 100 89% (91%)
Did you try to buy only what you needed? 93 83% (79%)
Did you try and menu plan before going shopping for food? 88 78% (67%)
Did you cook an extra portion and freeze it for another day? 75 66% (62%)
112 questionnaires returned
March 2018
Comments
Great initiatives, we already did these things but good to prompt others
I love the prayer but the suggestions on living simply really ought to be unnecessary as this really is ordinary thoughtful Christian living, it is sad that people have to be reminded
We have been doing most of these for some years
Whoever came up with the suggestion of burning mail in a wood burner has no concept of global warming
Many are normal activities not just LivingSimply
Regular reminders and ideas to focus on worked really well in keeping the campaign high profile, very effective
In the future we would like to give up our time to help others in need e.g. homeless soup kitchen
Many parishioners say that the things suggested are patronizing and that they do everything already – Good well done! But for many of us it is helpful to be reminded of ways to LiveSimply. I have been letting the tap run whilst cleaning my teeth so I can refocus on this, thank you
I don't use a bucket as I go to the carwash
I hope I think more about what I use
Several people commented that you should recycle paper and not burn it on a wood burner or the open fire
I am trying to live simply and am grateful for the weekly suggestions
I recycle junk mail as I worry about a chimney fire
I haven't made a resolution to live simply as I am a pragmatist and I do not like, or say the Live Simply Prayer as it is both poor English and silly, meaningless posturing. The intentions are worthy but incompletely expressed!
Next year our family are not buying Christmas presents but will be sending money to CAFOD and I will do the Reverse Advent Calendar next year
Suggestions
Sharing lifts to church on Sunday with a list of where people live with cars so we can save petrol
The charity shop in Aylsham in the Market Square (Break) accepts electrical items
Try to walk more to local events instead of taking the care
Cut up old clothes for cloths
Use the library instead of buying books
Don't flush the toilet every time
Carpool where possible especially for school runs and church events
Use a full load in the washing machine
Dry clothes outside rather than using a tumble drier
Composter
Have a green waste bin
Buy clothes from charity shops
Take the bus instead of the car
Prayer sessions for the purpose of praying for those who are poor and do we have any good videos to show people
Attempt to grow at least one food item either indoors or outside
Paper junk mail can be torn up and composted
Collect used stamps for charities
Re-use envelopes
Save unwanted presents for a charitable cause
Use the car less
Check your regular list of medications so chemists/ pharmacists don't give you items no longer required, this sometimes happens to many people – we need to inform doctors as some items are no longer needed. I had to return a huge bag of items which had to be destroyed a massive waste to the NHS
Giving friends a lift to Mass or shopping is a great idea
During April and May we are focussing on recycling issues and what can and can't be recycled
CAN be recycled – Tin foil and trays
Can NOT be recycled – Tissues and Kitchen Roll
CAN be recycled – Empty aerosol cans with their plastic caps
Can NOT be recycled – Soap pump dispenser tops
CAN be recycled – Bottle tops on milk bottles, wine bottles and jars
Can NOT be recycled – Shiny foil wrapping paper
CAN be recycled – Empty bleach bottles, clean juice cartons
Can NOT be recycled – Takeway coffee cups, sweet and crisp wrappers
CAN be recycled – Dry cardboard, paper and envelopes (including windowed)
Can NOT be recycled – Glass that is not from bottles or jars
'Share the Journey' – On Sunday 24thJune we will be walking as a parish as part of Pope Francis' request that we 'Share the Journey' with people fleeing war, persecution, natural disaster and poverty. CAFOD's aim is that all the walks of every individual will add up to 24,900 miles, the distance around the whole world. Following Mass at the Sacred Heart we will share coffee in the Hall and then walk approx. 2-3 miles along the Weavers Way, stopping to eat our packed lunches. There will be a cake stall, tombola and book-stall in the hall and a Nature Trail for the children on the walk.
For more info see: cafod.org/sharethejourney
Congratulations and thanks to everyone's enthusiasm and involvement we had a successful assessment last Monday afternoon and have gained a LiveSimply Award for our Parish. We will shortly receive a wooden plaque for each church plus the report of our assessment from CAFOD, which will be published on the Parish website and on the church notice boards along with the report we submitted to them about our efforts to live simply, sustainably and in solidarity with the poor.
Suggestions for June 2018
Buy fruit and veg from the greengrocer or market with no plastic bags
Think of ways to live without plastic
Pick up 3 pieces of litter when you are out on a walk and dispose of them correctly
LIVESIMPLY ASSESSMENT
We had our assessment to gain our LiveSimply Award on Monday 14th May 2018. Over the years we have compiled a ring binder full of information about all the projects etc we have been involved with whilst working towards the award. Below are the front sheets listing what he have done together with the results of the final questionnaire:
THE CAFOD LIVESIMPLY AWARD – SACRED HEART PARISH – NORTH WALSHAM
OCTOBER 2016 – MAY 2018
In June 2016, using the CAFOD Laudato Si' Study Guide, we organised a series of talks for the Parish and encouraged by these talks we decided to try and achieve a LiveSimply Award for the Parish (Item 1)
We formed a steering group with Fr. James and several members from each of our three communities and agreed to meet each month. We are a Parish comprising three very different communities each about 10 miles apart which does make joint working together quite difficult. However our steering group was extremely positive from the start and we all worked very well together.
We put together our plan, explained what we hoped to achieve to each community and submitted the plan to CAFOD (Item 2)
During the course of working towards our LiveSimply Award we have been very encouraged by the enthusiasm of our parishioners particularly when we have asked them to take part in a campaign or complete questionnaires. We are a parish of approximately 300 regular attenders and had well over 100 questionnaires returned each time with lots of comments and suggestions
We asked parishioners to complete a final life style changes questionnaire in April 2018 just before we submitted our portfolio for assessment to ask what changes people felt they had made and will continue to make in order to live more simply, more sustainably and more in solidarity with the poor. (Item 34)
We were very heartened by the responses and the desire that people obviously have to keep trying to live more simply. We will continue to encourage our parishioners by having an annual Parish LiveSimply Week based around Harvest Fast Day
LIVING SIMPLY
The Main Action was to use the Weekly Newsletter to suggest ways in which we could all be involved in living more simply.
We started by asking for suggestions from the Parishioners as to how we could do this (Item 3). We also used a lot of the '100 ways to Livesimply' suggestions on the CAFOD website.
Using these suggestions we planned a monthly theme to concentrate upon and added a suggestion each week in our parish bulletin (Item 3)
Each church has a LiveSimply display board with useful articles, CAFOD magazines, prayer cards and a suggestion box (item 4)
In March 2017 we asked parishioners to complete a monitoring questionnaire with their thoughts on how we were all doing. We repeated this questionnaire in March 2018 which showed a marked change (doubled in two important areas) in the direction we had hoped (Item 5)
We took the decision to stop having Fair Trade stalls in the Parish as we felt that most of the local supermarkets were selling Fair Trade goods at a much cheaper price than we could obtain them ourselves and we were not selling sufficient items each month. However we have encouraged many parishioners to buy CAFOD World Gifts over the last two Christmas periods. (Item 6)
We obtained a supply of the "LiveSimply" Prayer Cards and have incorporated this prayer every Sunday with our Prayers of the Faithful in each of our three churches (Item 7)
In September 2017 we took part in Pope Francis' World Day of Prayer for the Care of Creation and had a Creation Liturgy in the Memorial Garden of the Sacred Heart Church, North Walsham (Item 8)
We have tried to encourage people to share lifts to Church and to cycle or use public transport, but the distances involved in North Norfolk doesn't make this very easy.
On Sunday 29thApril despite the appalling weather we took part in the Rosary on the Coast of the British Isles For Life, Faith and Peace (Item 36)
LIVING SUSTAINABLY
The Main Action was to ensure parishioners were aware of how to use the local recycling facilities in the best way possible.
We were slightly handicapped in that two different district councils who issue slightly different leaflets serve our parish. We tried to visit the local recycling centre to see the process for ourselves but unfortunately it was not possible to arrange a visit as there had been an incident at the centre and all visits had been stopped.
However the weekly bulletins have suggested many ways in which we can become better at recycling and we provided parishioners with leaflets which we obtained from the district councils and a list of recycling hints and tips which we compiled to help them make correct decisions about what can and cannot be recycled. (Item 9)
We have encouraged parishioners to get involved with CAFOD campaigns such as "Power to Be' and have spoken at our Churches about the campaign and provided parishioners with cards to sign to be sent to the World Bank (Item 10)
We have encouraged parishioners to become MP correspondents both with CAFOD and by writing personally to their MPs and by signing the many petitions via 38 Degrees. During the General Election we ensured that parishioners were given a copy of the "Our Common Future" briefing from Caritas and CAFOD. (Item 11)
These are some of the topics that parishioners have written to their MPs about:
Nature directives to protect vulnerable wildlife
Cracking down on betting machines
Overseas tax dodging
Bottle recycling
SPUC campaign on behalf of chemists issuing the Morning After Pill
Relationship education in primary schools
Decrimilisation of abortion
Opposition to torture
Protection for survivors of torture
Detention of the Victims of Torture
Eviction of Maua community
Against fracking in Ryedale
Peace for the Holy Land
The choking of the oceans with plastic
Recycling issues and in particular to local stores about single use plastic containers
Parliamentary scrutiny of trade deals
Environmental and global warming concerns
Climate change and renewable energy
Repairing and upcycling clothes and textiles
Parental choice for the education of children
Removal of the 50% admission cap in Catholic schools
Freedom for religious minorities
Saving hedgehogs
Compact on Refugees
We contacted Ecotricty for their most up to date advice about energy saving and incorporated many of the suggestions in or parish bulletins and we also encouraged parishioners to consider changing to a more green energy supplier. (item 12)
Several members of the steering committee attended the Diocese of Norwich Environment Conference in May 2017 (Item 13)
We have encouraged parishioners to try and reduce both their energy and water consumption by suggestions in the parish bulletin each week.
We have gardens and green spaces around all three of our churches these are planted with bulbs and flowers and trees which we hope will encourage bees and butterflies. On the anniversary of our first year of working towards our Livesimply award each community has planted a tree in their garden (Item 14)
Fr. James our parish priest is a bee-keeper and has 2 Hives in the garden of the Sacred Heart Church.
At any one time there are up to three colonies of bees in the parish garden. These help to pollinate the three fruit trees that were planted two years ago. The bees also benefit from the large garden which has many wild flowers as well as a new section of 'bee-friendly' flowers. They also produce good quality honey. (Item 15)
LIVING IN SOLIDARITY
The Main Action was to support refugees both in Norfolk and elsewhere
In May 2016 prior to commencing working toward achieving our LiveSimply Award we had invited our Deanery Representative for Refugees to come address the Parish at our Annual Parish Meeting (Item 16)
In October 2016 a couple of Parishioners were making a pilgrimage in the Footsteps of St Paul and knew they would be visiting Rhodes and Kos where they would meet the Franciscan priest who was almost single handedly trying to support the refugees arriving on the islands beaches from Syria via Turkey. The parishioners donated £2000, which was taken to Kos and given directly to Fr. Luke Gregory for his work with the refugees. The local primary school of St. Francis of Assisi had been learning about the Lampedusa Cross and their Deputy Head Teacher, a parishioner, asked if letters of support for the refugees, that the children had written, could be taken to the islands too (Item 17)
In July 2016 we tried to help the newly arrived Syrian refugees in Norwich via 'English Plus' and organised a collection of bicycles, vacuum cleaners and tools, which were taken to Norwich for distribution to the families. (Item 18)
Each November parishioners gather together items for the Samaritan's Purse Shoe Box Appeal and usually send about 80 filled boxes (Item 19)
We have well established Clubs for our senior parishioners in both North Walsham and Hoveton, which offer friendship and social activities and outings for the members. The Clubs also do some fundraising for various charities – Support Cambodia, English +, The Anchorage Trust for the homeless, Bakhita House for trafficked women, First Responders, Norfolk and Norwich Befriending Volunteers, Shelter, The Benjamin Foundation, Marie Curie, The Samaritans, and a Dementia Club (item 20)
During Lent we have had Lenten Lunches and used the CAFOD Stations of the Cross to be able to be in solidarity with the people who CAFOD are focusing upon with the Lent Family Fast Appeals (Item 21)
Our Parish is twinned with St. Francis Xavier Parish in Svay Sisophon, Cambodia and every year parishioners have made a visit to our twinned parish to maintain our friendship and offer our support. A report of the most recent visit in January 2018 is attached (item 22) together with an Easter greeting from Fr. Greg the Parish Priest of our twinned parish (Item 23).
Each year in September, Parishes from our Diocese who are also twinned with Cambodian parishes gather for a Mass for the Ancestors at the Sacred Heart in North Walsham. The food offerings brought to this Mass are given to the Food Bank (Item 24)
Parishioners also support a local independent charity 'Support Cambodia' which was set up by four of our parishioners to help communities in North West Cambodia (including our twinned parish at Svay Sisophon). One of the ways this is done is by filling jars with 'Coins for Cambodia' which has a particular emphasis on the provision of clean drinking water (Item 25)
Harvest Fast Day involves the parishioners with a Harvest Supper and food collection for the local Food Bank with local harvest produce being sold after mass and the money donated to CAFOD. Throughout the growing season parishioners bring their excess produce to church each Sunday and share it for a donation to Support Cambodia, CAFOD or parish funds. (Item 26)
During Advent we have for the last 2 years been involved with the Reverse Advent Calendar for the local Food Banks and collected about 70 boxes are filled and delivered to the Food Banks (Item 27)
In October parishioners organised a Bring and Buy and Cake Stall for World Homelessness Day and the money raised was given to the Salvation Army ARK and to The Connection at St. Martins in the Fields (Item 28)
Most Wednesday evenings during the winter parishioners have been making soup and sandwiches for distribution to the homeless in Norwich. They have also been able to give them warm, hats, gloves and scarves provided by our SVP conference (Item 29)
In November we organised a Prayer Liturgy as part of the ACN's Red Wednesday to raise the profile of persecuted Christians around the world (Item 30)
In Advent parishioners were asked to donate to CAFOD's Refugee Crisis Appeal (Item 31)
In February we organized a collection of men's clothing for the refugees in Calais, which was transported to Calais by CamCRAG in Cambridge. (Item 32)
In April a couple of parishioners volunteered to travel with a CamCRAG convoy to work in the L'Auberge des Migrants and Refugee Community Kitchen for the weekend. They took with them the financial contributions from the parishioners towards the work of the Refugee Community Kitchen. (Item 35)
In June we will be joining with the Pope's invitation to Share the Journey by organising a Parish Walk as part of the CAFOD campaign for the rights of people on the move (Item33)
LiveSimply Life Style Changes – April 2018 – 125 Questionnaires returned
Since we started to work towards achieving our LiveSimply Award in October 2016 do you think you have made any significant changes that you would like to share?
Have you changed to a green energy supplier? – 20
Always seeking to lower bills
Have you installed solar panels at your home? – 8 (2 not permitted)
No but I will
It is not financially possible for us
Can't afford to
Have you become a CAFOD MP correspondent? – 13
Are you an improved recycler with your rubbish? – 119
Always good
More aware
Have you reduced the amount of plastic you use? – 113
Always try – pretty impossible
Difficult when everything is plastic wrapped
Are you using LED or low energy lights in your home? – 114
Only if desperate
Have you managed to reduce your annual water consumption? – 87
Not proven yet
No paddling pool over Easter with the weather
Don't know
Used the teeth brushing suggestions
Have you managed to reduce your annual electricity consumption? – 76
Not proven yet
Trying to train little people to turn lights off
Don't know
Possibly by a little
Have you found more time to appreciate our wonderful creation? – 105
We do live in and around such beauty
No change
Have you felt that we as a Parish are now more in solidarity with the poor both locally and abroad? – 105
Abroad yes, but not locally
LiveSimply is surely a lifelong effort
Yes but we could do more
Yes a valuable initiative
Will you continue to give CAFOD World Gifts or other Charity Gifts to your friends and family at Christmas and at other times of the year? – 91
We haven't done so yet but they will be considered
We haven't done this before
Maybe but I donate to other charities
I have told my family about this
Probably not
Will you continue to support the Reverse Advent Calendar for the local Food Banks? – 94
Next year
Yes excellent idea, I've just joined the food bank volunteer team in North Walsham
Are you trying to walk or cycle more rather than using a car? – 75 (6 have no car)
No but I use my care only infrequently anyway
Where possible
Walk more, unable to cycle and don't drive
Have you been able to offer lifts to others to parish events and weekly Masses? – 45 (6 have no car)
When asked
No because we cycle
I work
No but would be willing in the future
Are you able to compost your kitchen waste? 67
We compost garden waste but not kitchen waste
Yes and will target this
Have you felt trying to live more simply has been a worthwhile initiative and will you keep up your efforts? – 114
Helps us to appreciate people who have little
Doing much of it already
The campaign has not changed my habits, I already practice Eco as best I can
I think it is a very good initiative, the Reverse Advent Calendar is excellent and a prompt like that really helps. Perhaps another could be done in February when stocks at the food bank are lower
All the time
Yes being reminded and set challenges has been worthwhile and will continue
Thank you for your support in working towards our Livesimply Award, please add any further comments about any other changes you have made and would like to share.
Not buying unnecessary 'stuff'
I support the principles but cannot bring myself to join in the prayer, which is so weak and depends on nonsense metaphor. Could not this be re-composed into good English and abandon such awful expressions such as 'create in us a desire' which is meaningless inaction and what are 'pillars of injustice' end this posturing
It is difficult to support CAFOD or other charities by buying cards at Christmas, we buy the cheapest because we still have a mortgage and this limits what we can do, but we will give money to support charities when it is requested.
I have enjoyed the suggestions and for me they are helpful and a reminder of what I should be doing, I would like to have zero plastic and waste but it will take time
Buy fruit and veg from the market and not wrapped in plastic
Pick up 3 pieces of litter a day you see on the street or beach and put in the bins
I'm please we are generally thinking about living simply, if we can get outside more and see how wonderful nature is, its an amazing time of the year
I cut up my teabags
God Bless
Also reduced gas consumption and reduced food waste
I'm a regular supporter of CAFOD and Water Aid
I also give presents that are simple and perishable like a cake, sweets or a few flowers rather than as I previously did – buying objects that could not be used or were not liked by recipients
I believe I was fairly conscious of the LiveSimply philosophy before the campaign. I have probably changed little, with the exception of trying to use less plastic – not easy. I can, for example, use soap instead of shower gel, butter in foil rather than plastic tubs but wholesale changes are difficult.
LIVESIMPLY EVENTS AND SUGGESTIONS AROUND HARVEST 2018
29/30 September – CAFOD Family Fast Day Appeal will be read in each of our churches.
Wednesday 3rdOctober at 6.30 p.m. in St. John's Cathedral – The Norwich Secular Franciscans will be remembering the death (The Transitus) of St. Francis of Assisi with a simple service. Anyone who would like to attend would be extremely welcome – Ring Rob Hardie on 01603 897609 for further details
CAFOD Family Fast Day on Friday 5thOctober – We are asked to fast, pray and give, to help people living in remote villages in Uganda who struggle to get enough clean water to survive.
Stalham Area House Mass – Friday 5thOctober at 7 p.m. at Celia Cooper's house in Hickling, ring Celia if you would like to come along on 01692 598667
Parish Harvest Celebrations – Sunday 7thOctoberwe will gather as a Parish at the Sacred Heart to celebrate Harvest with a Family Mass at 11 a.m. followed by a Parish Harvest Lunch in the Parish Hall at 12.30 p.m. Parishioners from St. John of the Cross will provide the main course and parishioners from St. Helen's will provide the desserts. Michael McMahon, President of the North Norfolk SVP will speak to us during the lunch about the work of the SVP.
Monday 8thOctober at 2.30 p.m.in the Parish Hall, North Walsham, we will be showing a film entitled 'Global Healing' – How our faith helps us care for our common home. This film has been made by CaFE and has been sponsored by the Bishop's Conference and shows examples of how we can continue to respond to Laudato Si' together as a Parish
Friday 12thOctober at 7 p.m. in the Parish Hall at North Walsham. – Parish communities from all over the Diocese who are twinned with Parishes in Cambodia will be gathering for the annual celebration of Pchum Ben – The Cambodian Feast of the Ancestors. There will be Holy Mass followed by refreshments to which all are very welcome
12th– 14thOctober – CamCRAG Convoy to Calais – Rob and Clare Hardie and Naomi Perowne will be travelling over to Calais with a car full of men's clothing and ponchos to help in the Auberge des Migrants and the Calais Refuge Kitchen.
If anyone has slim men's clothing (32" waist) that they wish to donate or money to help the Calais Kitchen please get in touch with Rob or Clare on 01603 897609
SWITCHING ENERGY SUPPLIERS –If you had been considering the idea of switching to a green energy provider now would be a good time to do so as Ecotricity will donate £40 to CAFOD if you switch your electricity supply to them and £60 is you switch both gas and electricity. Contact: Ecotricity.co.uk/CAFOD or call 08081230123 and mention CAFOD
CAFOD Emergency Response Team– if you would like to help people affected by emergencies all year round why not consider joining CAFODS emergency response team by making a monthly donation at cafod.org.uk/ert
Reverse Advent Calendar for the Food Bank – we will be asking you to take part with this again during November as the donations are really appreciated by the Food Bank over the Christmas period