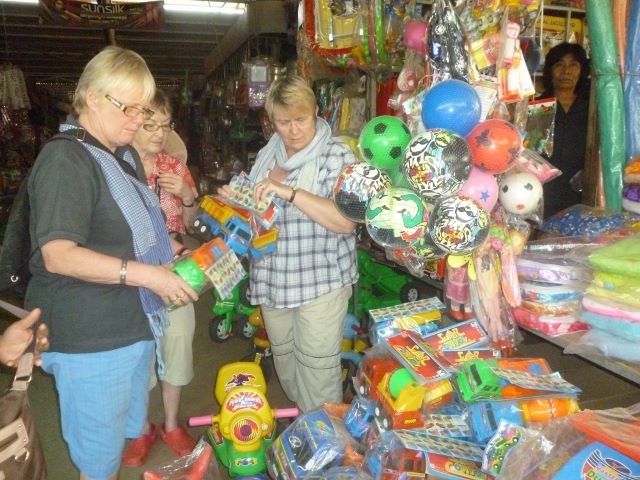 Finally, the 200 mile journey north again, to our twin parish of Svay Sisophon, 20 miles from the Thai border. A wonderful welcome from many old friends, Father Rajat, Brother Amalan, Sister Amor, Om Cecile [as outrageous as ever!], Teacher Saory, Kim Yee and many more – we had indeed 'come back'..again! In three manic days we managed to fit in visits to families living on the railway track, two farms, Svay Prison, Kbal Spean School [linked to St Francis of Assisi, Norwich]and Pongro School [linked to St Michael's School, Aylsham]: see the Rice Soup & Baby Milk Programmes in operation: deliver medical supplies to the Director at the Regional Hospital: give two talks on Girls' Health at Svay and Poipet [on the Thai border]: buy and distribute toys [from John of Gaunt Infants, Aylsham]to the children at Pongro Village: name a new well in Deilo Village in honour of the lady from North Walsham who paid for it and, on the final morning, visit the newly-opened church kindergarten at Deilo and the proposed site for the first Catholic School in Cambodia, to be built over the next 10 years by the Jesuit Service. We enjoyed English conversation with the hostel students, a wonderful party and entertainment on the last night [thanks Brothers Amalan and Touen!] and, after presenting Fr Rajat with the money for a new mass set [a gift from Sacred Heart parish] we shared in the community celebration of Sunday Mass with all our friends, both Christian and Buddhist. To all of them, yeung jeea meut pee-up nung dtra lop moak…… chanam krauwie! We really are your friends and we will come back…… next year!
So, an exhausting but memorable and very successful journey during which we achieved 95% of our agenda but most important of all, confirmed that the that the twinning link remains strong and its basis is mutual friendship, spiritual support and practical assistance…in that order.
 In 2014, Support Cambodia [the practical assistance 'arm' of our parish link] will be:
providing equipment and supporting two teachers at Deilo Kindergarten

contributing to the Rice Soup, Baby Milk and Girls' Health Programmes

collecting toothbrushes, reading glasses and vitamins for women & children

supporting other projects still to be decided
To 'Support Cambodia' in any way, please go to the Support Cambodia Home Page for contact and donation details.